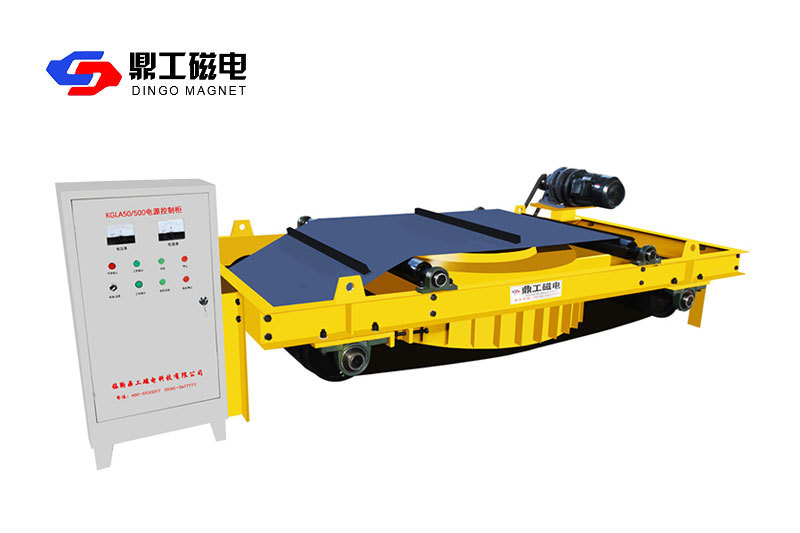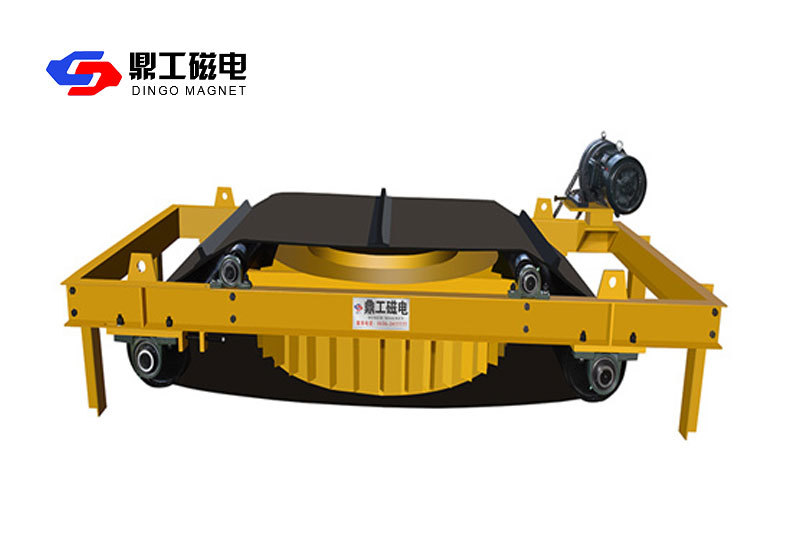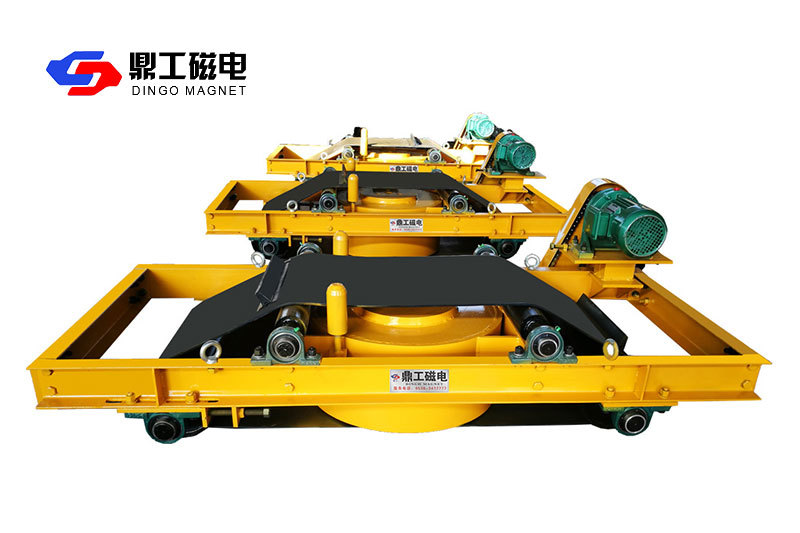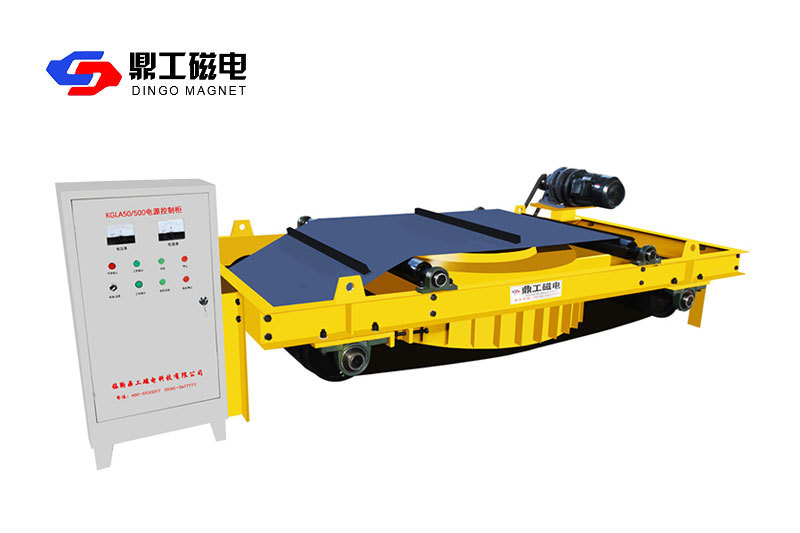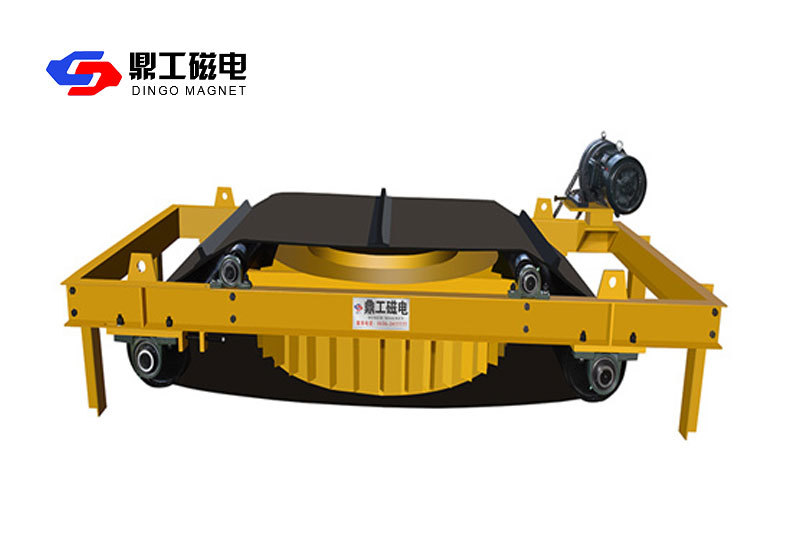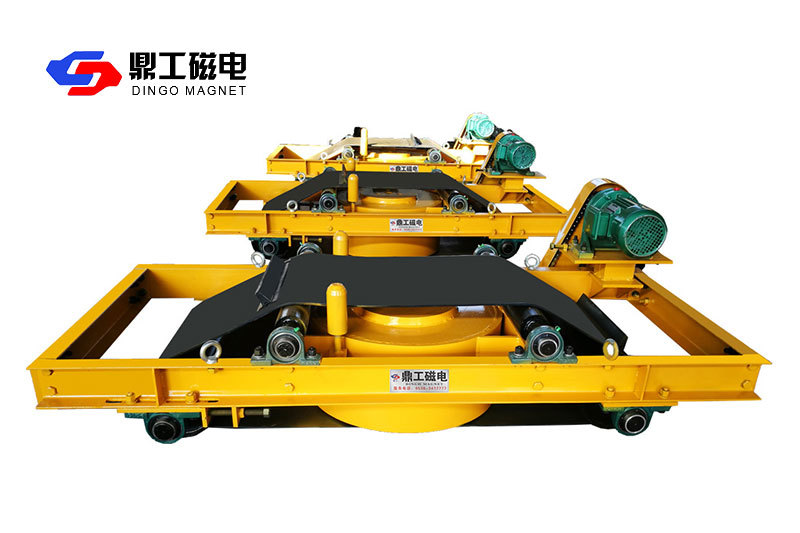 RCDD series dry self dumping electromagnetic iron remover
RCDD series dry self dumping electromagnetic iron remover
---
---
RCDD series dry self dumping electromagnetic iron remover
---
Applicable scope:
It applies to iron debris removing for any materials before entering
into conveyor belts or crushing machines under any severe environment.
Technical characteristics:
1.Its magnetic circuits are designed through computer aid simulating method. The
design makes the device has unique magnetic field, deep magnetic matrix perme
ability and strong magnetic field.
2.It uses special electrical resins pouring method as the sealing closure inside the
machine. Self cooling complete sealing structure makes the machine with features
of dust proof, rain proof, salt mist proof and corrosion resistance.
3.
It features the function of self iron debris removing and easy installation and
maintenance. Its cylinder has drum-shape designed structure and its belt has self
deviation adjusting function. Special made all sealed bearing housing make long term
trouble free running.
4.

It has good compatibility of working online with other equipments. The

product is equipped with a complete set of rectifying function. The device can be controlled by manual method or by centralized method. The above mentioned functions and features meet different requirements in various occasions.


5.It can effectively absorb 0.1-50 kilograms of ferromagnetic substances mixed in non-magnetic materials.
Product parameters:
Project/Parameter/Model

Adaptive belt width

mm

Rated suspending height

h mm

Magnetic field intensity

≥ mT

Material thickness

≤ mm

Excitation power

≤ Kw

Drive power

≤ Kw

Adaptive belt speed

≤ m/s

Weight kg

External dimensions mm

A

B

C

D

E

RCDD-5

500

150

60

100

1

1.5

4.5

950

2020

1040

775

853

1000

RCDD-6

600

175

60

130

1.8

1.5

1380

2140

1100

800

910

1100

RCDD-6.5

650

200

70

150

2

2.2

1490

2275

1190

820

988

1250

RCDD-8

800

250

70

200

3.6

2.2

1770

2540

1350

865

1133

1300

RCDD-10

1000

300

70

250

5

3

2380

2750

1635

940

1420

1500

RCDD-12

1200

350

70

300

6.8

3

3170

2950

1750

950

1518

1700

RCDD-14

1400

400

70

350

9

4

4800

3150

2050

950

1755

1900

RCDD-16

1600

450

70

400

13

5.5

6300

3750

2450

1180

1980

2050

RCDD-18

1800

500

70

450

18

7.5

7800

3950

2450

1290

2200

2200
RCDD-T系列超强干式自卸式电磁除铁器技术参数
Types\Parameters\Items

Cooling way

Adaptive belt width

mm

Rated suspending height

mm

Magnetic field intensity

mT

Exciting power

kw

Driving power

≤kw

Adaptive belt speed

≤m/s

Dimensions

mm

φD*B

Weight

kg

RCDD-6.5

T1

Dry self cooling

650

200

90

4

2.2

5.8

2320*1190*820

1800

T2

120

6

2.2

2540*1350*860

2250

T3

150

10

2.2

2750*1440*860

2950

RCDD-8

T1

800

250

90

5.3

2.2

2520*1350*880

2320

T2

120

7.5

3

2750*1630*880

2560

T3

150

11.5

3

2800*1650*920

3450

RCDD-10

T1

1000

300

90

7.1

3

2750*1650*920

3100

T2

120

9

3

2920*1750*950

3700

T3

150

14

4

3000*1800*960

4600

RCDD-12

T1

1200

350

90

9

4

2950*1750*950

4320

T2

120

13.5

4

3150*2050*950

5320

T3

150

16

5.5

3450*2050*950

6100

RCDD-14

T1

1400

400

90

11.5

4

3200*2100*960

6390

T2

120

18

5.5

3750*2250*1180

7400

T3

150

25

5.5

3900*2250*1180

8200

RCDD-16

T1

1600

450

90

18

5.5

3750*2250*1150

7150

T2

120

25

5.5

4100*2450*1200

8700

T3

150

40

7.5

4100*2450*1260

11750

RCDD-18

T1

1800

500

90

25

7.5

4100*2450*1230

9550

T2

120

32

7.5

4350*2600*1280

11540

T3

150

45

11

4350*2650*1280

15000

RCDD-20

T1

2000

550

90

30

7.5

4600*2650*1280

12460

T2

120

40

11

4950*2850*1300

14700

T3

150

50

11

4950*2850*1350

18690